Artikel "Sein" 2017
Lerne zu lieben
Eine Welt schaffen, wo wir als Menschen ganz, mit all unserer Wahrheit hineinpassen.
---
Artikel "Sein" 2017
Wir haben keine Lösung!
An alle, die immer die "eine Lösung" finden wollen oder glauben eine zu haben.
---
Artikel aus "Sein" im Juli 2012
Dem Schatten freudvoll auf der Spur
Das ist meine Chance das, was im Schatten schlummert und mein Leben indirekt steuert, aufzulösen. Es scheint, dass das Leben uns befreien will und frei sind wir nur mit unseren Schattenanteilen. D.h. wenn es uns gelingt, sie zu integrieren und sie so aufhören unser Leben aus dem Dunkeln heraus zu steuern.

Schattenarbeit.pdf (473K)
---
Artikel aus "Sein" im 2010
Was ist das Forum?


Artikel-Forum-Sein.doc (30K)
---
Artikel aus "Integrale Perspektiven" 2011
Eine integrale Praxis der Gruppenkommunikation

Artikel_Integrale-Perspektiven.pdf (110K)
---
Forum Artikel in Englisch im Permaculture Magazine
Forum – Taking to a Common Human Stage (Permaculture Magazine):


ZEGG_Forum_PM40.pdf (565K)
---
Forum Artikel in Englisch
Buch: "Ecovillage Living"


Forum_EVL2.pdf (30K)
---
Weitere Texte in Englisch
> Further Reading

oder auf www.zegg.de
---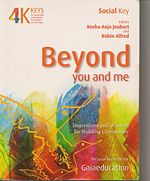 Beyond you and me
Inspirations and Wisdom for Building Community is the first anthology of readings published for students of Gaia Education's four-week certificate course, Ecovillage Design Education (EDE)
Kosha Anja Joubert and Robin Alfred, Editors
Permanent Publications, 2007, Hampshire, UK
Available as a free download:

Beyond_You_and_Me.pdf

And in printed-book form from Permaculture Magazine's online mail order company Green Shopping for £19.95 (about $30 in US currency), plus postage and handling for people outside the UK.
---
Veröffentlichungen zum Thema Ökologie
Die ZEGG Ökologie Broschüre von Achim Ecker
Deutsch:

ZEGG-Oeko-Broschuere_DE.pdf
Englisch:

ZEGG-OekoBroschuere_EN.pdf
---
Artikel "Sein" 2017
Lebendige Kreisläufe
Ein Leben im Einklang mit der Natur ist möglich
---
"Energy at ZEGG" Communities Magazine – Winter 13

Energy-Efficient-ZEGG-091313.pdf (63K)
---
Soil Restauration; This is an article by Achim Ecker on Soil Restauration from the example of ZEGG. It was published in 2011 in the Ecological Key of the EDE Training.

Soil restauration_eco key1.pdf (221K)
---
Ithaka Institute by Achim Ecker
Reforestation with biochar
---
Terra Preta Production-GEN News:
Soil Restoration and Carbon Sequestration using Biochar
Waterless Urinals - Charging Terra Preta at ZEGG
---
American Travel Blog
Mexico, November 2008


Achim_Ina_Diary_Mexico.pdf (2.05M)
Ecuador, 11th to 29th of December 2008


Achim_Ina_Diary_Ecuador.pdf (824.64K)
Colombia, 29th of Dec. 2008 to 8th of January 2009


Achim_Ina_Diary_Colombia.pdf (896.03K)
Peru, 21st of Jan. to 15th of February 2009


Achim_Ina_Diary_Peru.pdf (1.57M)
Amazonia, 8th to 17th of February 2009


Achim_Ina_Diary_Amazonia.pdf (1.43M)
Brasil I, 17th of Feb - 12th of March 2009


Achim_Ina_Diary_Brasil-I.pdf (2.2M)
Brasil II, 16th - 28th of March 2009


Achim_Ina_Diary_Brasil-II.pdf (569.71K)
Mexico and beyond 28th of March - 8th of April 2009


Achim_Ina_Diary_Mexico-and-beyond.pdf (785.29K)
USA, Part I, 8th - 25th of April 2009


Achim_Ina_Diary_USA_I.pdf (767.22K)
USA, Part II, 20th of May - 9th of June 2009


Achim_Ina_Diary_USA_II.pdf (892.25K)